Guns
Henry Frontier Rifle in 22 Magnum
U.S.A. -The 22 Winchester Magnum cartridge is one of my personal favorites. In short barreled handguns, it punches above its weight for defensive use with a healthy combination of penetrating power and low recoil.
I have more 22 Magnum revolvers than I care to admit, but at the end of the day, the Magnum is still a rifle cartridge. I haven't had a ton of trigger time with 22 Magnum rifles, but it became an itch I had to scratch. The most common 22 Magnum rifles available today are bolt-action rifles produced by the likes of Savage, Marlin, ect. There are a few semi-autos out there and several lever-action models produced by Henry Repeating Arms. The traditionalist in me ultimately settled on the Henry Frontier 22 Magnum.
Henry Frontier Rifle
The Henry Frontier is a slightly fancier rifle compared to its base model (the H001). It uses a heavy twenty-inch blued octagonal barrel and steel Marble's sights. The rear sight is a semi-buckhorn style with an adjustable ladder, while the front sight is a dovetailed brass-beaded post.
Otherwise, the Frontier has the same general operations and features as the basic rifle. It uses a twelve-shot tubular magazine housed under the barrel, and it comes stocked in plain, oiled walnut.
The receiver itself isn't steel like the rest of the rifle's working furniture but an enamel finished zinc-alloy. It is topped with a grooved 3/8 inch dovetailed mount for a rimfire scope.
Regarding safety features, the Henry can be carried with the hammer in its half-cock notch and the hammer cocked when you are ready to fire that first round.
First Impressions
Out of the box, the Henry Frontier feels like a traditional lever-action take on a bench rifle. The rifle weighs in at only six and a half pounds, but a lot of that weight is in the octagonal barrel. This design has two primary benefits: making the rifle muzzle-heavy to improve steady off-hand shooting and to dissipate heat for tighter groups. It seems natural to pair this with the 22 Magnum cartridge, as varmint hunting isn't always a one-shot or one-pest deal. Varmints tend to come in multiples. The Henry feels like a solid rifle, and the lever action is butter smooth and fast to work. The trigger pull is very crisp, with no mushiness at all. On my scale, it breaks at about 2.5 lbs. The case seems to be made for a good shooting rifle.
The only knock-out of the box I could give the Frontier is the inclusion of an alloy barrel band. The band is not a stress-bearing part, but it looks off, and a stamped steel piece would make the package look more complete. The zinc-alloy receiver is fine to hold 22 caliber pressures, and it is a hold-over from the cheaper base model rifle, but I will take it given the price paid and the inclusion of better sights and the octagonal barrel.
Loadin' and Shootin'
The Frontier uses the same brass removable magazine tube that other rimfire Henries utilize. To load the rifle, twist the knurled follower at the muzzle and pull the tube from the magazine itself. With the loading port exposed, drop in your ammunition, one round at a time, until the magazine is full. In the case of this 22 Magnum Frontier, the tube actually holds thirteen rounds. The loading process is slower and more cumbersome than switching out box magazines on a modern rifle, but I will take the few extra rounds the tube can hold.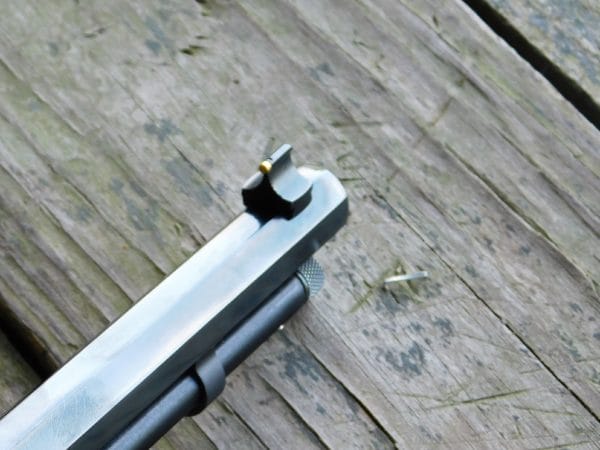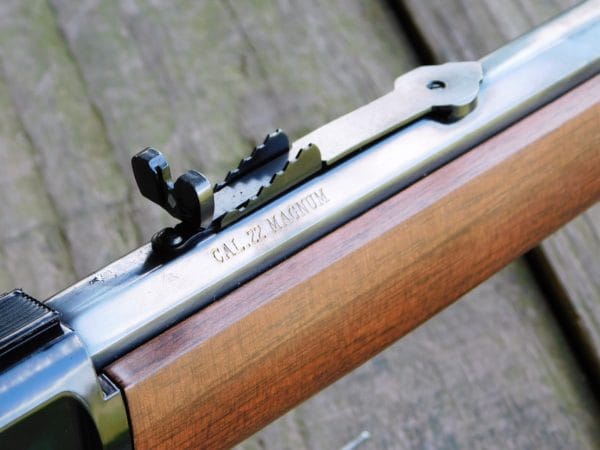 The traditional sights on the Frontier are well-put together and easy to adjust for elevation on the fly. Suppose you are shooting fast and close. It's easy for the front post to fall into that buckhorn rear sight.  But beyond 50-75 yards, the front post started to cover up small targets. If you are close in, the iron sights are fine, but the 22 Magnum cartridge truly demands an optic to realize some of the round's full potential.
The 3/8 inch scope rail machined into the receiver gives you options. It would be easy to install a 3/8 inch Weaver adapter and mount a conventional centerfire optic, but that would raise the height of the scope on the rifle. So I stuck with the 3/8 inch mount and installed a BSA Sweet 22 3-9 rimfire scope, and started shooting for groups.
I ran a few different types of ammunition through my chronograph and set out a few fifty-yard targets to sight in my scope. I was shooting from the bench supported by a bag. Not the most stable position in the world, but realistic for hunting and the standard I go by.  I sighted the rifle in using my ammo of choice, the CCI Maxi Mag 40 grain FMJ load. Then I went on to other types of ammunition, fired in five-shot groups.
Brand                                                Group Size              Velocity
CCI Maxi Mag 40 grain FMJ               1.2 in                   1890 fps
CCI Maxi Mag 30 grain HP+V             1.15 in                 2297 fps
Hornady V-Max 30 grain                     2.8 in                   2218 fps
Federal Powershok 50 grain HP         1.2 in                   1598 fps
Winchester  Super-X 40 grain HP       1.25 in                 1952 fps
*velocity is given as feet per second, five-shot average.
At fifty yards, the accuracy is pretty good given what I have to work with though I was disappointed by the Hornady V-Max varmint loads. The 40 and 50 grain loads hit to the point of aim, but the lighter loads hit three inches above the aiming point.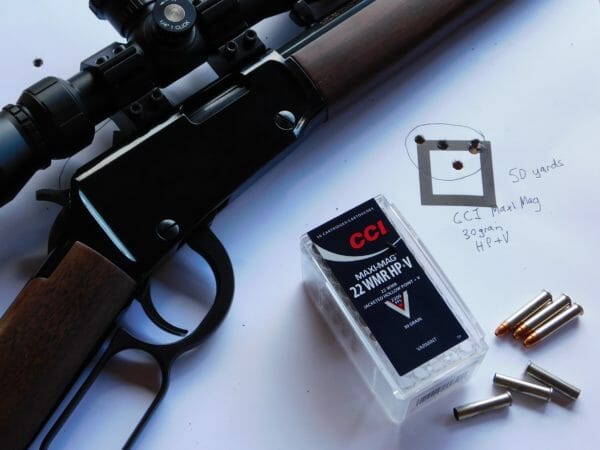 With the scope zeroed, I spent my next few range trips working the Henry out to two hundred yards.  At those distances, mistakes are amplified, but the Henry itself is hard to criticize. The CCI HP+V that did so well at fifty yards printed poorly out at 100 yards. I had better luck with the heavier loads, with my 40-grain and 50-grain loads running between 2.5 and 3 inches all day.
These groups don't represent the mechanical accuracy of the Henry Frontier, practical accuracy was pretty good once the ammo had been toyed with. For fun, I set out a four inch steel gong at 150 yards, along with a dozen clay pigeons from the 150-yard mark out to 200. These represented small varmints in size, and I could make quick work of them by aiming a few inches above the targets from my fifty-yard zero.
A Note on Barrel Harmonics
Rifles with tubular magazines have the potential to develop accuracy issues. The tube hanging below the barrel weighs most when the tube is fully loaded and lighter with every subsequent shot, potentially affecting the barrel and how the rounds print on target. To test this issue of barrel harmonics, all groups fired were a combination of firing with a loaded tube and single shots by loading one round directly into the chamber without using the tube. There was no accuracy difference I could note.
Henry Arms Standard Lever 18.25in 22 LR Rifle Specs
Product Name: Henry Frontier Rifle in 22 Magnum
Brand: Henry Arms
MFR #H001
UPC 619835001009
Barrel Length:18.25
Color: Black
Action Type: Lever Action
Cartridge: 22 Long Rifle
Item Weight (lbs): 5.500
Cartridge Capacity: 15
Finish: Blued
Front Sight Type: Fixed
Magazine Included: No
Magazine Capacity:15
Item Length (Inches): 36.500
Magazine Quantity: 0
Stock Material: Wood
Rear Sight Type: Adjustable
Make Model Fit: Henry. Standard Lever
Magazine Type: Fixed
Muzzle: Non-Threaded
Product Price: $570.00
*Henry Frontier Rifle in 22 Magnum Product Manual
Parting Shots
I took a chance picking the Henry Frontier as a first 22 Magnum rifle. After a few weeks and five hundred rounds downrange, I came away with little to regret except my ammo bills.
If you want a fun plinking gun, get the Frontier in 22 LR.
But price-wise, 22 Magnum ammo isn't too bad, and chambering it in this platform gives you options if you like to unleash your inner cowboy while picking out varmints that are too big or too out of reach to comfortably take with the ol' 22.
That is essentially how I see the Frontier. It has style and a bit of extra punch for you to work with.
You can buy a less expensive 22 Magnum rifle. You can definitely turn in better groups from a bipod or a fortress of sandbags. But for me and how I shoot, the Frontier isn't all style with no substance. it shoots straight. That fashionable octagonal barrel paid dividends when it came to shooting consistent groups back to back, and it certainly didn't hurt when I was steadying the rifle for a shot. The trigger is more than competitive, and I like having more rounds and an overall faster, lefty-friendly action.  In terms of reliability, all the ammunition I brought along fired and cycled with authority.
All in all, if you are in the market for a rimfire varmint rifle, don't be too swift to discount what Henry is putting out.