Guns
Review: FN 502 Tactical
With ammunition prices still high, it remains a good time for shooters and manufacturers alike to invest in rimfire options.
While many rimfire handgun designs are non-tactical, target-style models, there's always been an appeal for training pistols that emulate the ergonomics of their centerfire cousins. FN America, the stateside subsidiary of Belgian Fabrique Nationale (FN), recently launched a new entry into the tactical rimfire market.
The FN 502 Tactical is touted as the first ever slide-mounted optics-ready .22 Long Rifle-chambered pistol. Umarex in Germany manufactures it for FN. At first glance, you might think that this is FN's rimfire version of its popular 509 pistol series, but that would be incorrect. While they are similar in many ways and can even share holsters, there are several important distinctions that make the FN 502 a standalone product. The most obvious of these is that the 502 Tactical is a single-action, hammer-fired pistol rather than a double-action, striker-fired design like its centerfire cousin.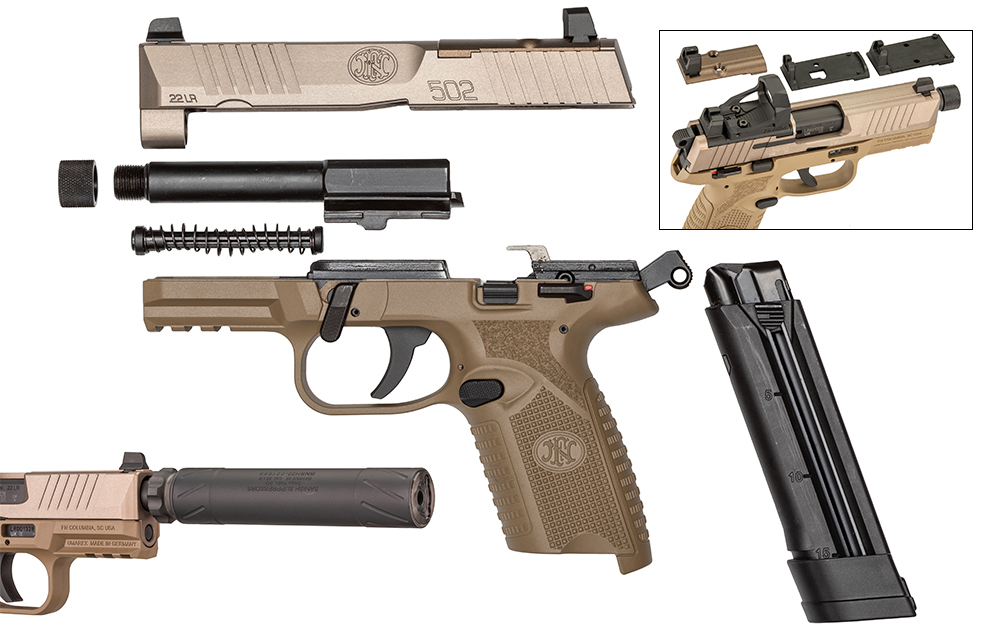 The FN 502 is 7.6″ long, 5.8″ tall and 1.4″ wide, and its threaded barrel, which is 4.6″ long, features 1:16″ right-hand-twist rifling. FN includes a knurled-metal thread protector to cover the muzzle's 1/2×28 TPI threads and protect the target crown. At an unloaded weight of 23.7 ozs., it feels substantial for a rimfire pistol. Our particular sample is the flat dark earth model, meaning the polymer frame is a common military tan color while the aluminum slide is a burnt bronze. The barrel, extractor, sights, hammer and the controls are all black. The pistol features three Picatinny slots on the dustcover for the installation of accessories. FN America included both a 15- and a 10-round magazine in the box.
We found the pistol's ergonomic design to be very comfortable. The grip, with the shorter 10-round magazine, just accommodates a large hand. As with the 509, there are three distinct textures molded into the FN 502's grip. The front and rear of the grip feature a horizontal checkering pattern, while the sides have a small pyramid-like texture. These textures are comfortable and unobtrusive while providing some level of traction. The third texture sits between the magazine-release button and slide stop on both sides and feels like very rough sandpaper; we found this portion to be exceptionally grippy. Unlike other FN pistols, the backstrap is not interchangeable.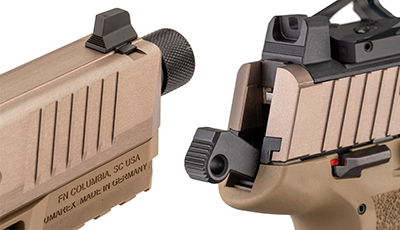 Bilateral controls include a manual safety, slide stop and magazine release. They are all easy to reach and manipulate without altering hand position. The wide polymer trigger is comfortable and features vertical serrations. FN documents the pull weight at 5 lbs., but our test sample produced an average break of 3 lbs., 13 ozs., with a Timney trigger gauge. The trigger pull has a very short take-up prior to the wall, which has a slight amount of spongy creep to it. The reset is long, requiring that the trigger be let out almost completely.
Since the FN 502 comes optics-ready, it features polymer, suppressor-height sights from the factory. The sights are dovetailed for easy removal, and FN includes a standard-height polymer front sight in the box. We found the sights to be blocky and imprecise, which detracts from iron-sight accuracy and gives the impression that FN intends the 502 Tactical to be used primarily with an optic. To that end, FN also includes three polymer mounting plates for common miniature red-dot optic footprints (Trijicon RMR, Shield RMS and Docter). Each plate also features an integral suppressor-height rear sight.
For velocity testing, we fired 10 shots each from three different loads over a PACT Model 1 chronograph placed 10 feet from the muzzle. We then tested for accuracy by firing five, 10-shot groups at a distance of 25 yards from a Caldwell Pistolero rest using only the iron sights. For ammunition, we used three 40-grain loads: Winchester's Wildcats, Remington's Targets and CCI's Standard Velocity round noses. The Winchester Wildcat turned in the best average group at 2.65″.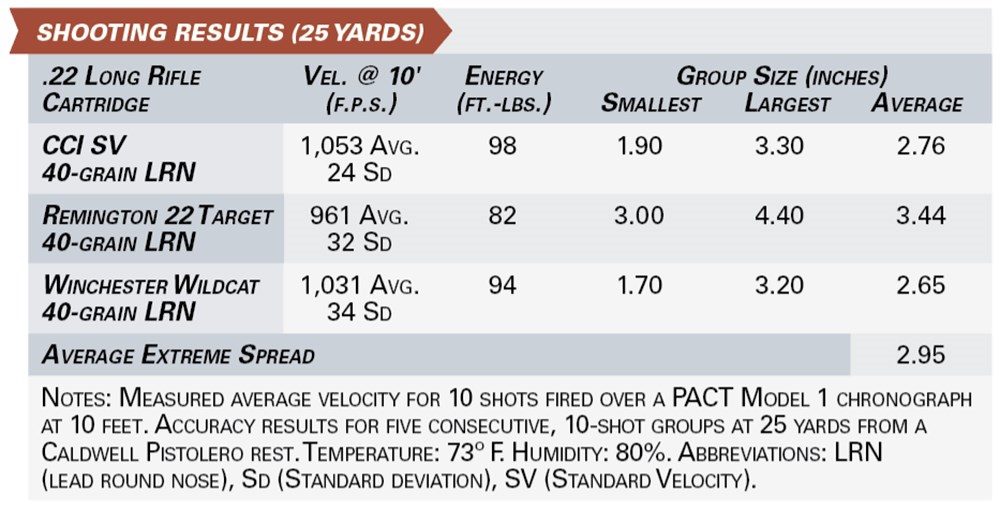 During testing, we had five total failures over about 300 shots—two with the Wildcat ammunition and three with Remington Target. All of the failures presented as the slide failing to go completely into battery, with the ejector resting behind the rim rather than grabbing it. This allowed the hammer to fall without firing, followed by a failure to pull the cartridge out of the chamber. After a thorough cleaning, including the ejector, we suffered no further malfunctions through another 100 shots.
In all, we found firing the FN 502 Tactical to be an enjoyable experience ideal for new shooters having inexpensive fun at the range. We appreciated its ergonomics and similarity to other pistols we train with regularly. The trigger is light and relatively crisp for a rimfire trainer. We found the included iron sights to be adequate, but we felt that the platform begs for a miniature red-dot.