Guns
Best Bullpup Shotguns: Compact Superior Firepower [2023]
A shotgun is a shotgun some would claim, but a bullpup is a whole other beast. From tactical home-defense guns to sporter range blasters, we're going to look at the best bullpup shotguns and give you everything you need to know to choose your next blaster.
WHAT ARE BULLPUPS?
Simply put, bullpups are normal firearms with the magazine, feeding, and chamber assemblies set behind the trigger area instead of in front.
That's it. That's the answer. Just move the magazine and chamber behind the trigger and poof, you got a bullpup.
The effect of moving your chamber much further back is you're able to have an overall longer barrel within the same space.
Instead of a 16-inch barrel giving your rifle 3-plus inches of overall length, a bullpup can have a 20-inch barrel of the same overall length. Or you can have a shorter barrel and make a very compact firearm.
ARE BULLPUP SHOTGUNS BETTER?
Maaaaybe.
Bullpups in general have a lot of drawbacks and are a hotly debated topic for firearm enthusiasts around the world.
While a shorter length with more muzzle velocity is appealing, bullpups have ergonomic issues, horrible triggers and are generally balanced oddly.
That said, a bullpup shotgun gives you a very compact package with a decently long barrel — great for close-quarters situations, like home defense.
And because the barrel is longer this, normally, means you're able to pack more ammo into the tube.
More ammo, more velocity, same small package — that's a lot of solid benefits. But the trigger and ergonomics can't be ignored. They can be trained around!
When it comes down to what is better, I think you just have to try for yourself. Personally, I tend to like normal configuration firearms a little better but that's also what I've spent the most time training on and shooting.
That being said, I love my Desert Tech MDRx as a bullpup battle rifle and I get giddy when I shoot an IWI Tavor TS12 bullpup shotgun.
Find what works best for you.
PRACTICAL APPLICATIONS FOR BULLPUP SHOTGUNS
Home Defense is basically where it starts and ends for bullpup shotguns.
Sure, you could use one as a breeching shotgun but why bother when you can just use a shorter shotgun.
You technically can shoot trap/skeet/game with a bullpup shotgun, but bullpups swing poorly and often won't be allowed because of the sports' rules.
Really, home defense is where the bullpup shotgun wants to live for the average person's use.
And in that role, they can shine.
Shorter weapons are always nice to have when you're navigating corners and obstacles. Bullpup shotguns are also almost all very modern in their design and provide a lot of mounting points for weapon lights, lasers, optics, and more.
And back to the more ammo in the tube thing, more ammo is always a gain in home defense. Statistically, home invasions overwhelmingly involve more than one attacker — so bringing extra ammo when player No. 3 enters the game is a good idea.
BEST BULLPUP SHOTGUNS
Smith & Wesson M&P 12
The newest and arguably best bullpup pump shotgun on the market right now, Smith & Wesson has really put in the development time on this gun to make something that is ultra-reliable and delivers all of the features we demand.
Two shell tubes independently feed the 3-inch chamber giving you a capacity of 6 per tube of 3-inch shells or 7 per tube of 2-3/4-inch shells.
You're able to switch what tube is feeding on the fly giving you the option to do creative loadings like keeping one tube full of slugs and the other filled with buckshot.
A 1913 railing sits on top of the gun giving you a lot of room for optics — gone are the days of guessing with a bead sight!
M-LOK mounting points out front are perfect for a weapon light.
Downward ejection makes the M&P easy to use for left and right-handed shooters.
The rear and foregrip are both modeled after S&W's M&P pistol line giving a familiar and ergonomic feel. The foregrip is a huge benefit in helping you rack the gun.
That covers the good news, but it's not all roses. Loading the M&P 12 is a little… strange. It's not hard, it's just not as intuitive as it could be.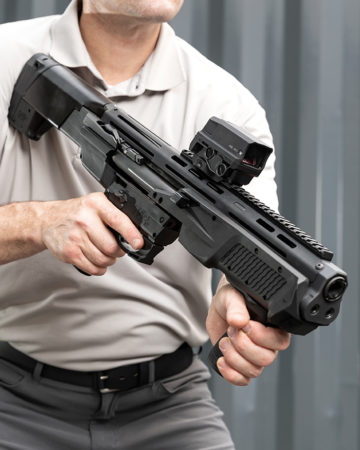 The rest of the controls are very AR-15-like, but loading will take some getting used to.
Thankfully, with 14-shells on tap, reloads are unlikely to occur during a home-defense situation.
To top it all off, the M&P 12 uses Remington-style chokes so you can adjust your pattern.
Read more and Meet The New Smith And Wesson M&P 12 Bullpup Shotgun.
SPECS:
Barrel Length: 19"
Capacity: 6 3" Shells, 7 2-3/4" Shells, Per Tube, 2 Tubes
Action: Pump
Choke: Rem Choke compatible
Weight: 132.8 Oz.
Length: 27.8
Width: 3.7
Height: 8.7"
MSRP: $1,200
IWI Tavor TS12
The largest standard capacity in its class and ability to deliver overwhelmingly superior firepower in a semi-auto package, the IWI Tavor TS12 is a beast of a bullpup!
IWI is behind some of the best and battle-proven bullpups on the market, its take on a shotgun is just as impressive and well built.
Featuring 3 tubes that rotate with a twist of the hand, the TS12 packs a full 15-shells in the tubes plus another in the chamber. And again, multiple tubes give you the option to get crazy with your loading.
Semi-auto via a gas-operated system makes this a fast-shooting bullpup that takes minimal effort to operate. The controls are modeled after the Tavor line of rifles and are not too different from AR-15 controls.
The major thing to train and get used to is twisting the shell tubes after one runs dry.
1913 rail on top for optics, M-LOK down the side of the forend for weapon lights, slings, and more. You even get some QD sling mounts in the buttstock!
Two downsides we've found with the TS12 — first, it seems to have a break-in period. The first 200-500 rounds or so it can be a little picky on what ammo cycles well. I recommend a range session or two running a lot of buckshot to get things to work in a little before switching to the low-power stuff.
Secondly, the TS12 is not super-lefthand friendly. Out of the box, a normal TS12 will eject from the right side and likely slap leftie shooters in the face with shells.
IWI does offer the TS12 in a native left-side eject, but finding one is difficult, to say the least. You can also have IWI convert your right-side eject model to a left-side, but this requires sending it into IWI for service and paying for it.
The TS12 cannot be converted by anyone except IWI. They won't even sell the parts to do it even if you wanted to DIY.
Not a fan of that part, but I'm also right-handed so it doesn't stop me from loving the TS12.
Complete Review on our Space Force Bullpup Shotgun: IWI Tavor TS12.
SPECS:
Barrel Length: 18.5"
Capacity: 4 3″ Shells, 5 2-3/4″ Shells, Per Tube, 3 Tubes
Action: Semi-automatic
Choke: Beretta/Benelli Mobil
Weight: 9 lbs.
Length: 28.34″
Height: 10.23″
MSRP: $1,400
Black Aces Tactical Pro Series
Black Aces Tactical has a huge lineup of odd and interesting shotguns, all of them proven reliable and dependable.
The Pro Series is a bullpup shotgun with a 3" chamber and fed from 1919 magazines — but the kicker is that it's offered in a pump-action AND a semi-auto model!
Both versions come in at the same MSRP of $600, giving you the option to choose the action you want and get it for a very good price.
Both models have 1913 railing on top for optics, both have M-LOK mounting for lights and such, and both come with a vertical foregrip.
You get 2 5-round magazines and 3 chokes with each bullpup shotgun, both guns weigh the same and have the same overall length.
I don't know every law in the nation, but Black Aces Tactical advertises their pump-action model as being 50-states legal. Living in California, this speaks to my soul.
Both are offered in a huge range of colors and both come in either left- or right-side ejection patterns. You can't convert them, but you can at least choose when you buy them.
Its 5-round magazines are a lot less ammo on tap than the other models we've talked about, but 12-round extended magazines are available.
The good news is that reloading is VERY simple since it's just a magazine swap.
SPECS:
Barrel Length: 18.5″
Capacity: 5-round standard, 12-round extended
Action: Semi-automatic or Pump
Choke: Benelli Mobil
Weight: 10 lbs.
Length: 28":
MSRP: $600
Kel-Tec KSG
Featured in movies like John Wick, and video games like Call Of Duty, the Kel-Tec KSG might be the most famous production bullpup shotgun ever made.
The standard model has an 18.5-inch barrel, but if you want to go crazy you can also get the KSG with a 30-inch barrel. For reasons.
The KSG has all of the features you should expect, 1913 rail on top for optics, 1913 on the bottom of the forend for grips, ergonomic design, and controls that are very familiar feeling.
Like the M&P 12, the KSG ejects downward making this shootable from either shoulder without issue.
What makes the KSG special?
Basically, the KSG has been around for a while now. There were other bullpups before it, but the KSG was one of the first to really grab people's attention and command some respect.
While Kel-Tec might be best known for its outside-the-box design work, the KSG is relatively tame and simple.
Fundamentally, it's a pump gun that is a real workhorse. It's also a bullpup.
Read more about The Kel-Tec KSG Shotgun.
SPECS:
Barrel Length: 18.5"
Capacity: 7+7 (2-3/4" shells)
Action: Pump
Choke: Non-replaceable Cylindric Choke
Weight: 6.9 lbs.
Length: 26.1"
MSRP: $900
Rock Island Armory VRBP-100-A
The same manufacturer that brings you inexpensive 1911s now has a line of great shotguns for you to take a look at!
The VR series of shotguns from Rock Island Armory has a ton of different models both standard and bullpup — but the one we're interested in is the VRBP-100-A.
A 5-shot magazine is standard but 19-shot magazines can be had as well, it boasts a 1913 railing on top, Beretta/Benelli chokes and a 20-inch barrel!
None of this is groundbreaking and this same basic form is offered by a few brands with minor differences.
What I like about RIA's take on things is the slightly longer barrel. While nothing is wrong with 18.5-inch barrels, the VRBP-100-A gives you an extra inch and a half for a little better velocity. Is this enough of a difference to make a difference? Maybe not, but if you want just a little more punch this is where you can find it.
I also really like that RIA keeps it simple by using Beretta/Benelli chokes, these are by far my favorite and are very easy to find. Most higher-end shotguns also use them so this saves you from having to buy something off-brand if you have other good shotguns.
SPECS:
Barrel Length: 20″
Capacity: 5-round magazine standard, 19-round extended
Action: Semi-Automatic
Choke: Beretta/Benelli Mobil
Weight: 7.94 lbs.
Length: 32"
Width: 2"
Height: 7"
MSRP: $600
UTAS UTS-15
What is this, a Kel-Tec for normal people? Well, yes but also no. The UTS-15 has actually been around for about 10 years now and while it looks very similar to the KRG, it's a whole different beast.
Pump action, bullpup, twin tubes — it all sounds familiar but it's the little details that stand out.
The UTS-15 places the shell tubes above the barrel making it a lot easier to load than the KRG but still giving you the option for an interesting load strategy since you have the two selectable tubes.
The threaded barrel uses Beretta/Benelli chokes also, something the KRG is annoyingly missing.
You can even get the UTS-15 with a built-in laser/light combo and the controls built into the grip! Now that's fancy.
All in all, this is basically a KRG for grown-ups.
Downsides? The UTS-15 had a really rough start. The first couple of generations were beset with issues and problems, but now that we're on the 4th generation this is proving to be a solid platform. Still, those early days are hard to forget for early adopters.
Here is some more hands-on info from [SHOT Show 2017] UTS15 Shotgun.
SPECS:
Barrel Length: 18.5"
Capacity: 7+7
Action: Pump
Choke: Beretta/Benelli Mobil
Weight: 6.9 lbs.
Length: 28.3"
MSRP: $1,100
LOOSE ROUNDS
My top pick out of these would be the IWI Tavor TS12 for a semi-auto and the Kel-Tec KSG for a pump-action.
Both are super solid guns that will run every time you need them to.
You won't go wrong with any of the options on this list so if you have the chance to try them, take it.