Guns
How Russia's New 'Improved' AK-12 Assault Rifles Compare to Iconic AK-47s
Russia's newly announced AK-12 assault rifle will be "much more versatile" than the famed AK-47, one expert has said, as Russia prepares to roll out the upgraded model to its armed forces in Ukraine.
Moscow's military may begin using an "improved version" of the AK-12 assault rifle in operations in Ukraine before the end of the year, the head of Russian defense manufacturer Concern Kalashnikov told state media.
The next wave of testing for this rifle is underway, Alan Lushnikov told state broadcaster Rossiya-24. "If everything is in order, we will launch them into mass production from the second half of the year," he added, saying they could then be used in Ukraine before 2024.
In late May, Kalashnikov's chief designer told Russian state media outlet, Tass, that the AK-12 was being upgraded "following the results of the experience of the gun's use in the special operation," referring to Moscow's term for the ongoing war.
SUBSCRIBE NOW FROM JUST $1 >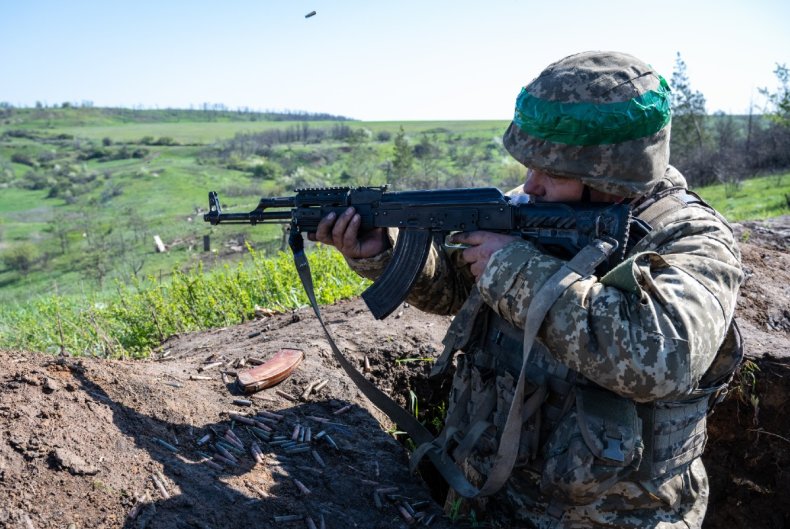 The newer assault rifles in Moscow's arsenal, including this reworked AK-12, are "much more versatile" compared with the AK-47, according to Marina Miron, a post-doctoral researcher in the Department of War Studies at King's College London, U.K.
The 5.45 mm AK-12 is the standard assault rifle issued to Russian infantry forces. The new AK-12 has a 16-inch barrel and can fire 700 rounds per minute as well as having a two-round burst function, Miron said. AK-47s and AK-74M are also 5.45 mm caliber weapons. The standard-issue AK-12 weighs in at 8 pounds with an empty magazine and has an 875-yard firing range.
The AK-12 has several features that boost its combat effectiveness, particularly compared to an AK-74M, which did not have many accessory options, Miron told Newsweek.
SIGN UP FOR NEWSWEEK'S EMAIL UPDATES >
The AK-12 has a lower recoil and has a rail both above the barrel and below it, also known as a Picatinny rail, which can be used to add these accessories, such as lasers and optical sights, she added.
The new AK-12 also has an adjustable tubular buttstock, which can vary depending on the shooter's height, plus the operator does not have to take their hand off the pistol grip when switching firing modes, Miron said.
The AK-12 is intended for use by front-line troops and has been specifically designed to meet the demands of a modern battlefield, she added.
The 7.62 mm AK-47 was originally produced at the end of World War II, going on to become standard in the Russian armed forces for decades and widely used across the world. It weighs slightly more when empty, coming in at around 9.5 pounds unloaded and 10.6 pounds when loaded, and fires 600 rounds per minute, according to military database, WeaponSystems.net.