That '70s Show
'That '90s Show' Cast Unites New Talent With 'That '70s Show' Actors
Sixteen years after its finale, the cast of That '70s Show is finally coming back to TV. Several of the sitcom's original stars will reprise their roles for the upcoming Netflix spinoff, That '90s Show. Here's a breakdown of who is returning and what to expect.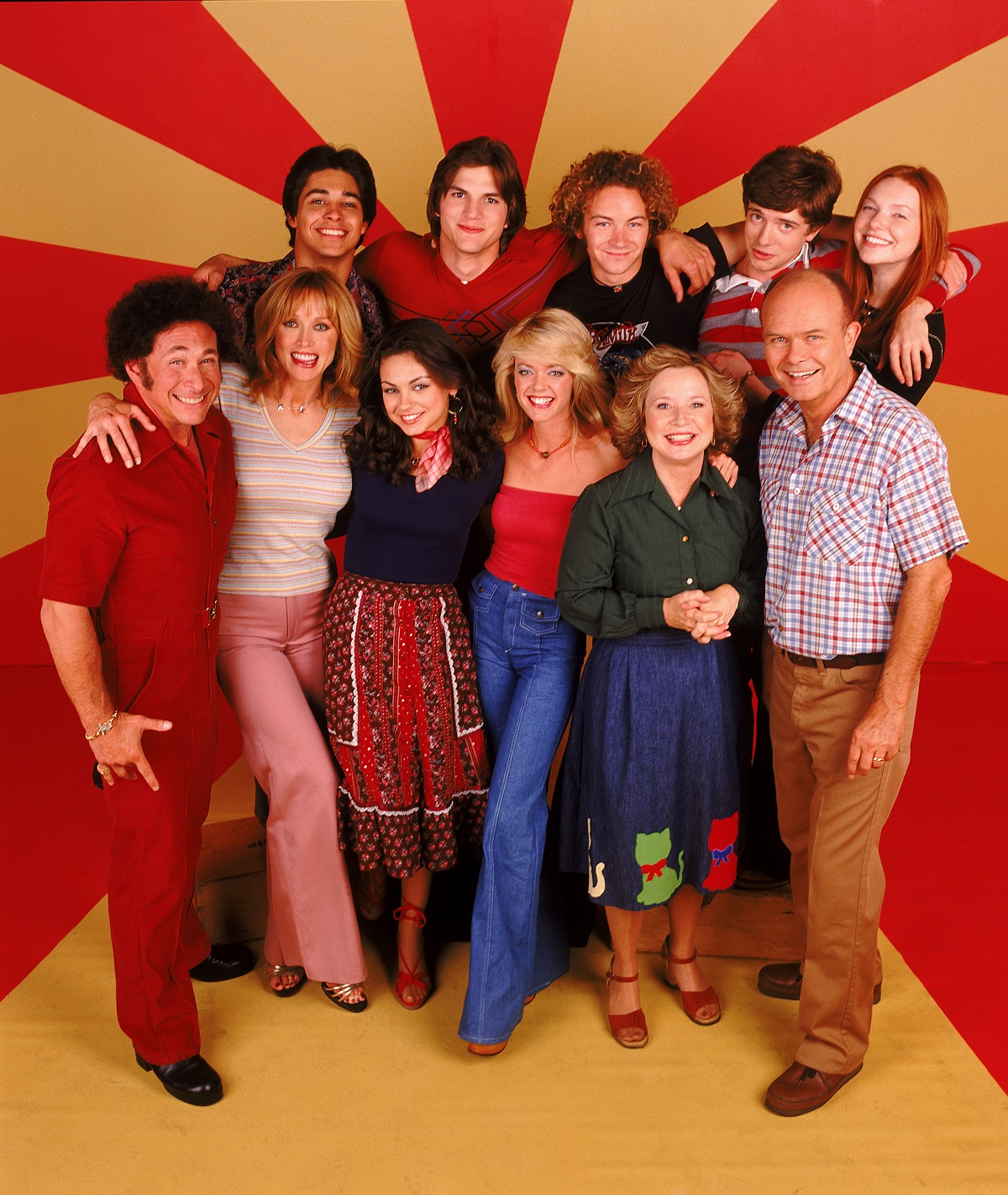 How' That '90s Show' is connected to' That '70s Show'
That '70s Show, which aired for eight seasons on FOX from 1998 to 2006, is set in the late '70s and follows a group of six teenage friends. The series served as a starting point for several big Hollywood stars, including Ashton Kutcher, Mila Kunis, Wilmer Valderrama, Topher Grace, and Laura Prepon.
The upcoming spinoff, That '90s Show, comes from Bonnie and Terry Turner — the creators of That '70s Show. The new sitcom is set in the same world as the original and will reference its characters, settings, and events. It is centered on Leia Forman (Callie Haverda), the daughter of Grace and Prepon's characters, Eric and Donna. 
The Netflix series will pick up with Leia in the summer of 1995, as she spends time with her grandparents, Kitty (Debra Jo Rupp) and Red (Kurtwood Smith). That '90s Show features a new generation of teen stars, including Ashley Aufderheide as Gwen; Mace Coronel as Jay; Maxwell Acee Donovan as Nate; Reyn Doi as Ozzie; and Sam Morelos as Nikki.
Which actors from the 'That '70s Show' cast will be on 'That '90s Show'? 
Along with reprising their roles as Kitty and Red Forman, actors Kurtwood Smith and Debra Jo Rupp also serve as executive producers of That '90s Show. And they're bringing back some of their old co-stars for the spinoff.
According to Variety, Kutcher and Kunis (who met on That '70s Show and are now married) will return as Michael Kelso and Jackie Burkhart. Grace and Prepon are set to reprise their roles as Eric and Donna (Leia's parents). And Valderrama will return as Fez.
Danny Masterson, who portrayed Stephen Hyde in That '70s Show, will not appear in the spinoff. The actor was charged with three counts of sexual assault and rape and is now awaiting trial.
Netflix hasn't announced a release date for 'That '90s Show'
Netflix announced the That '70s Show reboot in October 2021. But since then, the streamer hasn't released many production details, aside from main casting and the 10-episode count for season 1. 
However, set photos suggest that That' 90s Show has started filming. And in a tweet, Grace shared a photo of himself wearing Eric's signature t-shirt, hinting he might be filming the new series. 
"Yup, still fits. #hellowisconsin," Grace wrote over a photo revealing his vintage yellow Point Place Viking Class of '77 t-shirt.
Production on the series seems to be in full swing. But unfortunately, Netflix hasn't yet indicated a release timeline or premiere date.
In the meantime, fans can re-watch their favorite moments from That '70s Show. Episodes are available to rent and purchase on Amazon Prime Video. And there is a good chance Netflix will add the sitcom to its catalog sometime before That '90s Show premieres.