Guns
Savage Model 110 PCS
When I first learned Savage was introducing a bolt-action pistol, my interest immediately perked. Inquiring minds wanted to know more. After all, it's not every day a new handgun emerges for handgun hunters or long-range pistol shooters. A huge percentage of gun sales today revolve around personal defense handguns so the market-share for bolt-action pistols pale in comparison.
There are, however, many folks like me who enjoy not only hunting with a short barrel but also enjoy the challenge of long-range shooting whether paper or steel targets. Therefore, I snagged one of these Savage pistols as soon as possible and went to work.
In The Beginning
The new Savage 110 PCS (Pistol Chassis System) is modified around the company's exemplar 110 rifle action. In the past, I've had the opportunity to hunt and shoot several iterations of the Model 110 and discovered they all have shot great straight out of the box. I was hoping this short-barreled version would perform equally as well.
The pistol is made of carbon steel with a matte black finish on both barrel and receiver. No shiny metal to reflect sunlight and spook game. The Savage pistol features a Modular Driven Technologies Light Sniper System (MDT LSS) one-piece chassis crafted from machined aluminum. Enhancing the attributes of the chassis is a 7″ free-floating modular forend with M-LOK slots. In the front of the 7″ forend is a sling swivel stud perfectly situated for bipod attachment. Located at the back end of the chassis is a socket for sling attachment.
Other notable features include a one-piece Picatinny rail with 16 slots, which provide a ton of flexibility for placement of optics. I like the appearance of the spiral fluted bolt and really like the oversized bolt handle. My test gun in 6.5 Creedmoor, came with a left-hand bolt with right-port ejection. This will appeal to many right-handed shooters, allowing them to manipulate the bolt with their left hand while maintaining control of the pistol grip with their shooting hand. Left-handed shooters may want to reverse the bolt throw for the same reason.
The 10.5″ medium-contour barrel is fitted with a threaded muzzle. This provides the shooter with the option to add accessories such as their choice of muzzle brake or suppressor.
There are barricade grooves milled into the front of the magazine well while located at the rear of the chassis is a short Picatinny rail with three slots. I feel pretty confident someone will stick an arm brace here but I'm going to pass. Like other Savage models in the 110 lineup, a large tang safety with aggressive serrations makes for painless on and off safety selection.
This Savage 110 PCS comes with a 10-round, AICS-style detachable magazine. In front of the trigger guard is an ambidextrous magazine release. Like other Model 110s I've shot previously, the single-stage AccuTrigger is sweet and appreciated. This trigger can be adjusted easily from 2.5 to 6 lbs. The trigger pull of this pistol out of the box broke around 3 lbs. cleanly. The MDT rubber-molded grip is most comfortable and fit my hands perfectly. If you don't like this particular grip for some reason, there are plenty of AR-style grips available.
Before fitting a Leupold 3.5-10x scope in Leupold rings, the gun tipped the scales at 6 lbs., one ounce with an empty magazine. The overall length was a tad over 21″ making it much more portable than a rifle if carrying to your deer stand is a concern.
Range Time
With a few boxes of HSM Low Recoil and Federal Terminal Ascent ammo, I hit the shooting range to find out how this pistol would do in the accuracy department. The sight-in period started at 50 yards. When final adjustments were made, I ran a three-shot group with HSM Low Recoil 140-grain Sierra load and bullet holes were almost touching. I ran several more 50-yard groups, all producing bug-hole accuracy.
Backing off to 100 yards, I shot both the HSM load along with Federal's 130-grain Terminal Ascent ammo. It didn't take long to see three-shot groups consistently landing inside one inch. I was impressed! No modification, just straight out of the box with factory ammo, the 110 PCS performed extremely well. This pistol is very accurate!
Loading the 10-round box magazine was easy and painless. The bolt was a little stiff but I feel it would take care of itself with more shooting. I liked the oversized bolt handle and never experienced any issues feeding or ejecting empty brass. The AccuTrigger was also much appreciated. Recoil was not intimidating whatsoever and the pistol balances better than I anticipated.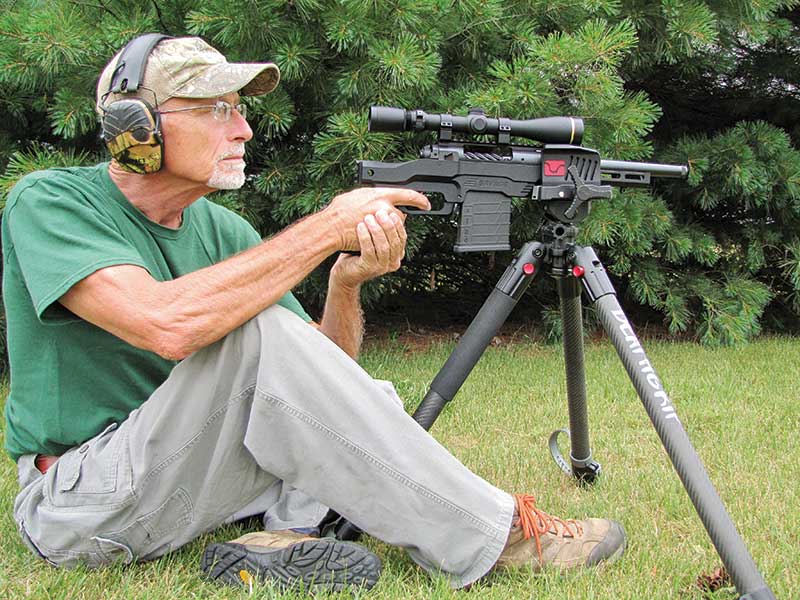 Changes
If I could wave my magic wand, there are a couple of items I would address. First, the 10.5″ barrel gives me a little heartburn. While it doesn't affect accuracy, velocity will suffer greatly compared to rifle-length barrels. Handgun hunters would overwhelmingly prefer a 15″ tube for cartridges such as the 6.5 Creedmoor and .308 Winchester.
Secondly, a flush-fitting magazine would be added for shooting off a backpack or similar circumstance. At the range, I used large sandbags in the front and an Armageddon Gear bag in the rear with the 10-round box situated between the bags and not touching the bench. It wasn't a problem shooting from a bench but I can see issues with the large box magazine if shooting from certain positions on the ground. While shooting from a Bog Gear tripod, this magazine issue is non-existent.
Today's tactical mindset is overpowering — I get it! I fully realize I'm a relic. Just recently I noticed an advertisement for tactical fishing shorts. Heck, no wonder I can't catch a limit of fish — I'm not wearing tactical fishing shorts!
Conclusion
So, what niche will the Model 110 PCS fill? Handgun hunters will lean toward this model despite the 10.5″ barrel as the pistol is certainly more compact than toting a rifle around the field. Shooters who enjoy banging away at steel targets from long range will also enjoy the attributes of this version. Currently the pistol is available in five calibers including .223, 300 BLK, .308 Winchester, 6.5 Creedmoor and 350 Legend.
The .223 would be ideal for varmint hunters whether it's an overpopulated prairie dog town or calling coyotes and other fur bearing critters. Some folks who live in states allowing straight wall cartridges will appreciate the option of the 350 Legend. The 6.5 Creedmoor and .308 Win. will find favor with whitetail hunters for sure. Anyone with aversion to recoil would definitely find favor with the 300 BLK.
If you're looking for a varmint pistol or a bolt-action handgun for your next deer hunt, the Savage 110 PCS may just be the ticket. I know for a fact it is a very accurate pistol and at the end of the day, that's what really matters!