John Wayne
John Wayne and Montgomery Clift Were Paid a 'Startling' Amount for 'Red River'
John Wayne and Montgomery Clift were both monumental actors that had a true impact on Hollywood and the field of cinema. However, they had contrasting images and represented an entirely different type of movie star. It played out wonderfully on the silver screen in Red River, but one of the most surprising behind-the-scenes facts is that they were each paid the same amount in a "startling" sum for a newcomer.
John Wayne and Montgomery Clift faced off in 'Red River'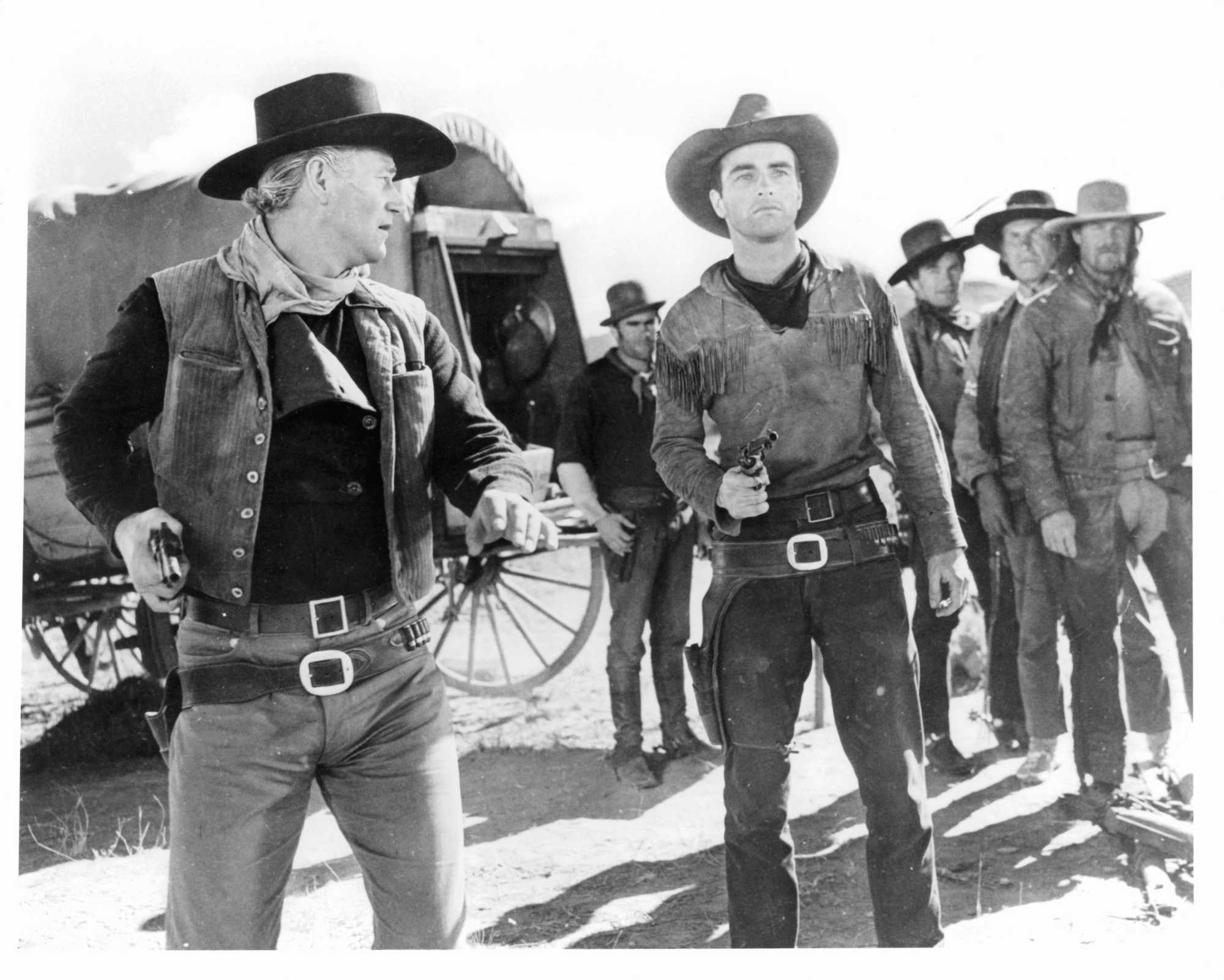 Howard Hawks' Red River hit theaters in 1948, putting Wayne and Clift against one another with their opposing characters. The story follows a stubborn Texas cattle ranch owner named Thomas Dunson (Wayne). He takes his job quite seriously, and has the help of his trailhand (Walter Brennan) and his protégé, Matt Garth (Clift), who Dunson raised since Matt was only a boy.
After the Civil War, Dunson struggled financially and needed to catch a break. Therefore, he comes up with the plan to lead a cattle drive headed for Missouri with the hopes of getting a better price for his sale. However, the old and young men refuse to see eye-to-eye, as they begin to butt heads along the journey, pitting them directly against one another.
John Wayne and Montgomery Clift were paid a similar amount for 'Red River'
Wayne and Clift entered the Hollywood system in different periods. The Western film star originally made his entrance into acting after working on the Fox lot in the props department. Legendary filmmaker John Ford saw something special in him, but he got his first leading role in 1930's The Big Trail. The movie bombed at the box office, but he finally found his first big box office hit with 1939's Stagecoach.
Meanwhile, Clift came from the world of theater before he made his debut in feature films. Red River marked his first Hollywood role, yet it didn't matter much when it came to the paycheck that he earned for playing Matt.
According to Todd McCarthy's Howard Hawks: The Grey Fox of Hollywood, Wayne was paid $50,000 for Red River, but he was given an additional $10,000 for every week over 12 weeks. He also earned 10% of the film's profits, which guaranteed him $75,000.
Meanwhile, Clift was offered the same amount of money as Wayne – $75,000. He was offered $50,000 at the base, but it went up considerably after adding up extra-week overages and a bonus.
The $75,000 in 1948 translates to around $936,000 in 2023. It doesn't sound like a lot compared to modern-day sums that major actors earn, but it was a lot for the time.
Wayne was already a considerable star by the time 1948 rolled around, but Clift was a new name. Hawks and others involved in production called it a "startling" sum to pay the young actor, but they knew that they found the right man for the job.
'Red River' was a monumental part of their careers
Red River proved to be a major moment in the careers of both Wayne and Clift, even though they were in vastly different positions. The Western movie star was playing a character older than his real-life age at the time, but it proved to be the role of a lifetime for him. Red River was the first time that Wayne felt like a "real actor," as he previously received an abundance of criticism for essentially playing the same character from one movie to the next.
Clift earned a lot of success off the back of Red River, earning his first Academy Award nomination for his second role in 1948's The Search. He would go on to earn another three Oscar nominations for A Place in the Sun, From Here to Eternity, and Judgment at Nuremberg, but he never won the golden statuette.