Kevin Costner may be one of Hollywood's most underrated leading actors. While he's gotten his due in the awards department — having won two Academy Awards, two Golden Globes, two Screen Actor Guild Awards, and an Emmy per IMDb — he's rarely been put on lists of biggest stars or most talented performers (Digital Spy). But his career tells a very different story, with a number of memorable roles in a variety of classic films in nearly every genre. While Costner may be at his best playing no-nonsense Western cowboys with a heart of gold, he's done just as well in romantic comedies, action thrillers, and political dramas. He's played baseball players, real-life historical figures, and even the father of the world's greatest superhero.
From sports films like "Field of Dreams" to Westerns like "Dances with Wolves," Costner is a Hollywood icon in his own way, and his lengthy and impressive career is hardly over. Now a seasoned veteran, Costner's recently been seen as the star of the series "Yellowstone," a multi-season hit that's spawned the spinoff "1883" — proving that the actor's star isn't fading, only getting brighter. The list of great roles Kevin Costner has played is a long one, and there's only going to be more in the future; but for now, here's a list of the ones we think are among his best.
Frank Farmer (The Bodyguard)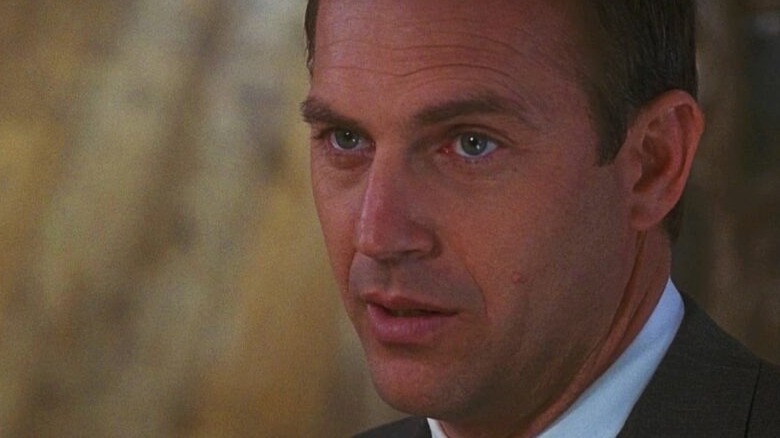 The 1992 drama "The Bodyguard" starring Whitney Houston delivered the second biggest hit of Kevin Costner's career — to the tune of $411 million, according to Box Office Mojo. Coming after the blockbuster "Robin Hood: Prince of Thieves," the film capped off three straight years of box office hits for Costner that began with the Oscar-winning "Dances with Wolves." By 1993, Costner was a legitimate star. "The Bodyguard" put him in the role of Frank Farmer, a former Secret Service agent who's hired to be the bodyguard to a popular singer and actress when she is threatened by an anonymous stalker. Written by "Star Wars" scribe Lawrence Kasdan, the film was widely panned by critics but proved another unforgettable role for the actor.
Though his performance earned him the dubious honor of a Razzie nomination for worst actor (IMDb), losing to Sly Stallone for "Stop! Or My Mom Will Shoot!," "The Bodyguard" is even more memorable because of the hit song "I Will Always Love You" by Costner's co-star Whitney Houston. Originally written by Dolly Parton and suggested to begin a cappella in the film by Costner himself, Houston's iconic version was number one in the U.S. for 14 weeks and was the best-selling single in the U.S. in 1993 (per Showbiz Cheat Sheet).
Jake (Silverado)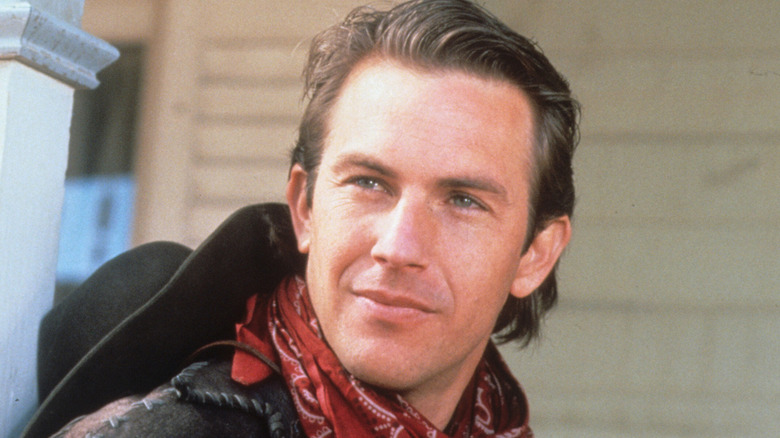 Kevin Costner has often played cowboys and gunslingers. For his first Western epic, he took on the role of fearless, fun-loving cowboy Jake in the 1985 ensemble "Silverado." Part of an all-star cast that also included Danny Glover, Scott Glenn, John Cleese, and Jeff Goldblum, Costner still managed to stand out in an early career performance as the brother to Glenn's character Emmett, who puts together a ragtag band of adventurers and sets out to fight crime on the lawless frontier in classic Western movie fashion.
Written by veteran screenwriter Lawrence Kasdan — who also wrote "The Big Chill" — "Silverado" reportedly included a big part for Costner as an apology for having his entire role from the former film left on the cutting room floor (TheThings). And while "Silverado" will never be voted one of Hollywood's greatest Westerns, Costner gave a good turn as the young upstart cowboy Jake, the kid brother bandit whose upbeat attitude contrasted nicely against some of the other more dour and downtrodden wranglers in the film. Though he didn't have the biggest part in the ensemble, Costner must have impressed screenwriter Kasdan in his part as a cowboy, as the two would re-team nearly a decade later on another Western, the underrated historical adventure flick "Wyatt Earp."
Jonathan Kent (Man of Steel)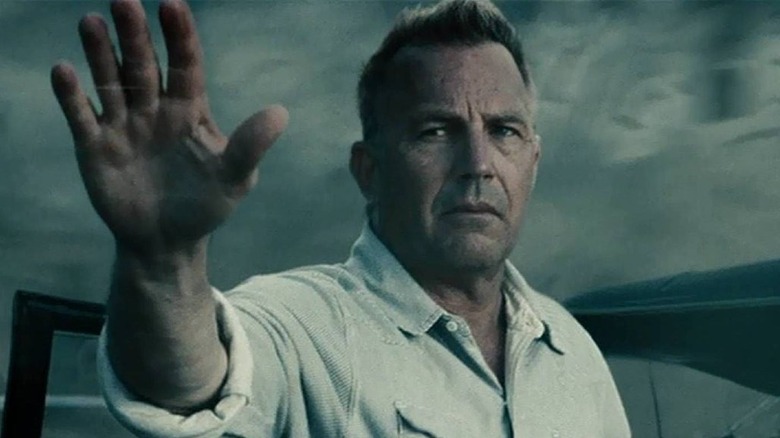 Beginning with the original "Superman" in 1979, comic book superhero movies have often starred a lesser-known actor in the lead, but featured a well-known Hollywood great in a supporting role. From Marlon Brando as Superman's father Kal-El to Anthony Hopkins as Odin in Marvel's "Thor," it's also common for that superstar to play the hero's father, and that trend continued in Zack Snyder's 2012 Superman reboot, "Man of Steel." This time it was Kevin Costner taking on the role of Jonathan Kent, the human adoptive father to baby Kal-El (played by up-and-comer Henry Cavill) who discovers him after he lands on Earth as a baby.
In Zack Snyder's version of Superman, Pa Kent was far from the older, retired man who needed help around the farm that he was often portrayed as in the comics. Costner's take on the character was a rugged, capable cowboy type, eager to get his hands dirty and dedicated to setting a good fatherly example to his alien son. World-weary but principled, Costner's Pa Kent helped Clark come to terms with his extraterrestrial origins, delivering several powerful parenting moments. Though he didn't have a large part in the film, it was an important one, and he'd return for a scene in the movie's sequel, leaving his mark on the franchise as the role model for Henry Cavill's Superman.
Robin Hood (Robin Hood: Prince of Thieves)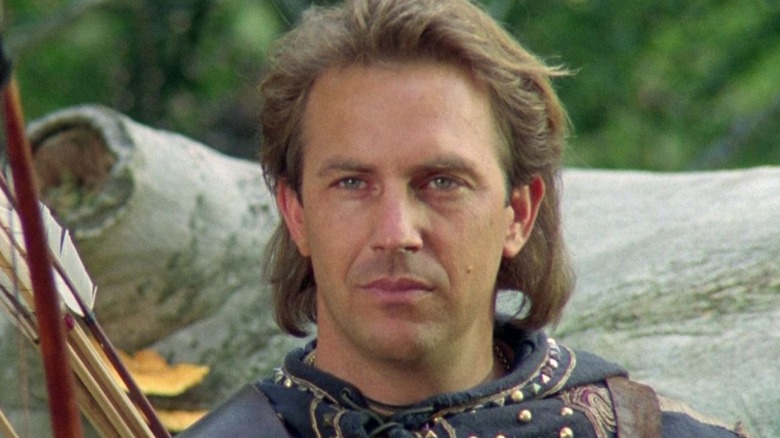 In the first of several well-known characters that Kevin Costner played on this list, his divisive take on literary folk hero Robin Hood may not have been the most historically accurate, but it was impressive in its own right. Coming off of the previous year's award-winning drama "Dances with Wolves," Costner starred in "Robin Hood: Prince of Thieves," a big-budget blockbuster co-starring Morgan Freeman, Christian Slater, Alan Rickman, Sean Connery, and Mary Elizabeth Mastrantonio. While some critics pummeled the film for turning the classic hero myth into an over-the-top action spectacle (RogerEbert.com), audiences enjoyed it far more: The movie made nearly $400 million at the box office (Box Office Mojo).
A darker take on the legend, "Prince of Thieves" retold the story of the man who robbed from the rich to give to the poor, but with a modern edge per Den of Geek. Though not his best performance, it was a rare opportunity for Costner to play a famous fictional hero and remains one of his most memorable parts. Thanks to its box office take, it still ranks as the third-highest-grossing starring role in his career (The Numbers).
William Anderson Hatfield (Hatfields & McCoys)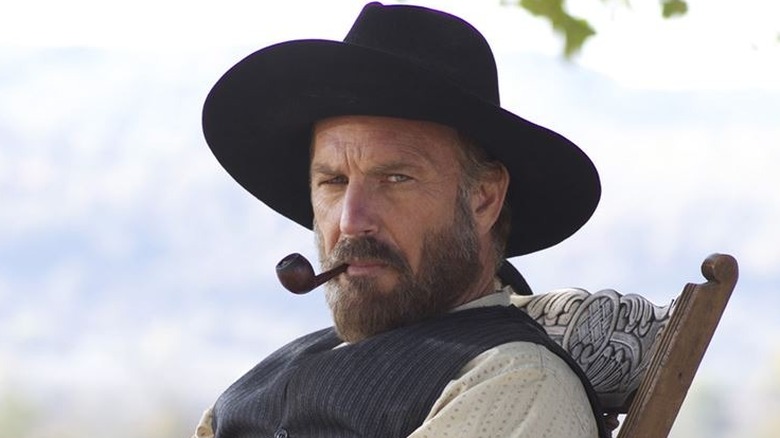 The History Channel's first stab at a scripted drama was the 2012 Western miniseries "Hatfields & McCoys," which saw Kevin Costner once again donning a cowboy hat and playing a rough-riding Wild West gunslinger as the titular William Anderson Hatfield, according to The Hollywood Reporter. Then in his late 50s, Costner played a hardened veteran cowboy this time around — a role he was well-suited for and delivered with aplomb. In the three-part series, Costner plays the head of the historic family that engaged in a vicious blood feud with their neighbors the McCoys for nearly 30 years, running through and beyond the Civil War in America's heartland. The two affluent and politically connected families would strike back and forth over the decades, killing one another in personally motivated vendettas. 
Directed by frequent Costner collaborator Kevin Reynolds (who also helmed "Robin Hood: Prince of Thieves" and "Waterworld"), "Hatfields & McCoys" was widely praised by critics for its gritty drama and powerful performances, both from Costner and onscreen rival Bill Paxton as Randolph McCoy, per Rotten Tomatoes. The landmark TV series debuted to record ratings, earned Costner a Prime Time Emmy Award for his performance, and further cemented the actor's already considerable reputation as one of Hollywood's best cowboys (via The Hollywood Reporter).
Sonny Weaver Jr. (Draft Day)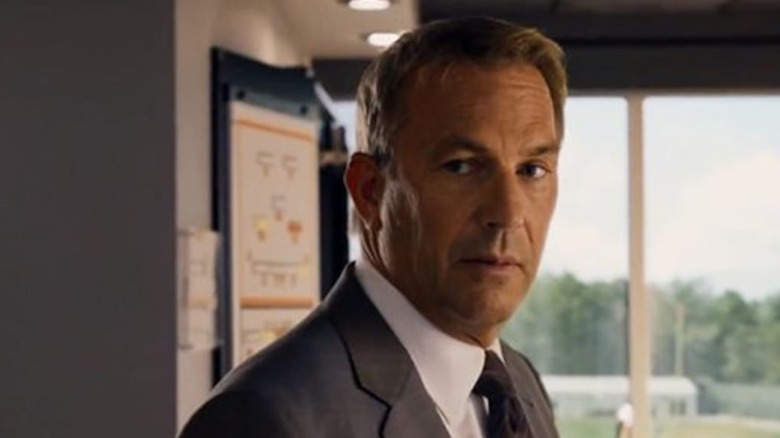 After a long career of sports movies that included the likes of "Bull Durham," "Tin Cup," "Field of Dreams," and "For the Love of the Game," Kevin Costner went from the field to the front office, this time playing big league executive and fictional General Manager of the Cleveland Browns Sonny Weaver Jr. In some ways a football version of Brad Pitt's baseball-themed "Moneyball," "Draft Day" has Costner's character struggling with a losing team. After years of failure, the Browns — and Weaver — are focused on the upcoming annual player draft and feeling the pressure to pick the right players to assemble a winner. With Sam Elliott, Chadwick Boseman, Frank Langella, and Jennifer Garner co-starring, it's Costner who stands out as the tough and resilient general manager facing a turning point in his life and career.
Though the movie was criticized by some for by-the-numbers storytelling, Costner himself earned praise, with noted critic Roger Ebert saying "Costner has the world-weariness of a man losing sleep over college kids and job security." It's certainly not the best sports movie that Costner would make in his career, but it proved he could do more than play an athlete on the field.
Wyatt Earp (Wyatt Earp)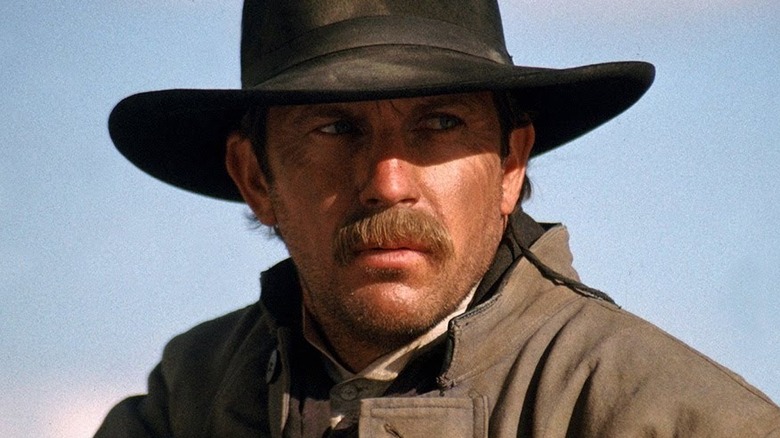 Back in the Wild West for a third time, Kevin Costner saddled up as the title character in "Wyatt Earp," a film once again written by Lawrence Kasdan. A biographical drama about the legendary real-life gunfighter and 19th century lawman who took part in the infamous showdown at the O.K. Corral, the movie features an impressive ensemble cast that includes Gene Hackman, Dennis Quaid, Michael Madsen, and Catherine O'Hara. Though it ultimately proved to be a flop at the box office (Box Office Mojo), "Wyatt Earp" was a highly anticipated period Western that was an important part of the genre's resurgence, along with films like Clint Eastwood's "Unforgiven" and Sam Raimi's "The Quick And The Dead" (ComicBook). 
Rotten Tomatoes' current critical consensus notes the film's "eye-catching direction and an impressive cast," but it unfortunately had to face off against a strikingly similar film released the same year, Kurt Russell's "Tombstone." Matched up with the equally star-studded movie, "Wyatt Earp" sadly compared unfavorably, but Costner still received good reviews for an impressive effort in the lead role. After Costner's performances in "Silverado" and "Dances with Wolves," there were few better to play a sharp-shooting Western hero.
Jim Garrison (JFK)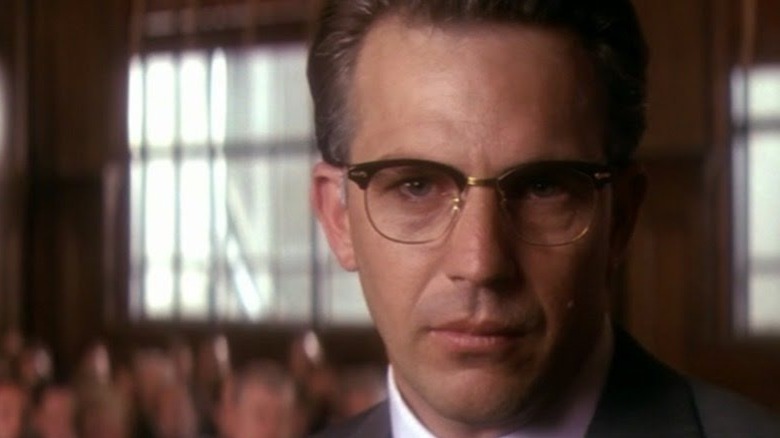 At the height of his fame in the early '90s, Costner was coming off award-winners and blockbusters like "Dances with Wolves" and "Robin Hood: Prince of Thieves" when he was recruited by celebrated director Oliver Stone to lead his controversial historical conspiracy drama "JFK," per The Baltimore Sun. The political thriller from the director of "Wall Street" and "Born on the Fourth of July" detailed the investigation and trial that took place in the aftermath of American President John F. Kennedy's assassination. Embracing the controversy, "JFK" presented audiences with a divisive perspective and perhaps popularized what were at the time more fringe theories surrounding the death of Kennedy and his killer, Lee Harvey Oswald (played by Gary Oldman).
For Costner's part, the role of lead investigator and prosecutor Jim Garrison was a game changer, and he gave an iconic performance as the district attorney determined to get to the truth. The film was more than just talked about — it was Oscar-worthy, nominated for numerous awards, with memorable moments from the film being lampooned in episodes of "Seinfeld" and "The Simpsons," illustrating how Costner's performance and the film had become a pop culture phenomenon (Oscars.org).
Lieutenant John J. Dunbar (Dances with Wolves)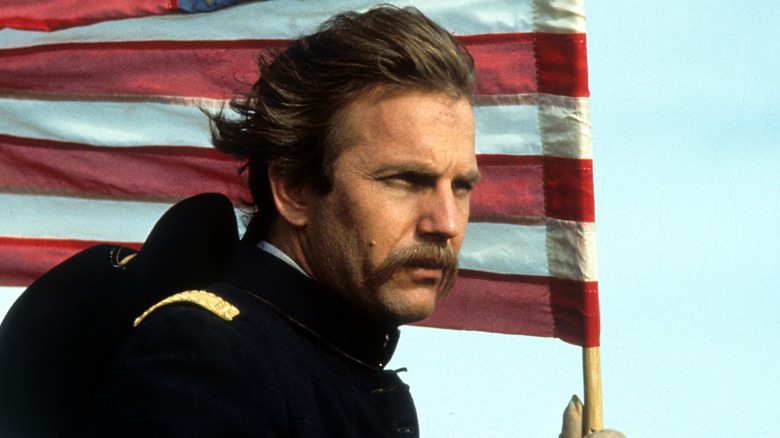 After a string of hits in the late 1980s, Kevin Costner stepped behind the camera and into the director's chair for the sweeping Western wartime drama "Dances with Wolves." Costner would also star in the three-hour epic, playing Lieutenant John J. Dunbar, a Union soldier tasked with manning a remote military outpost on the Western frontier in the middle of the Civil War. Based on the book of the same name, "Dances with Wolves" tells Dunbar's unique story, detailing the connection he forges with a tribe of Lakota that inhabit the surrounding lands. Over the course of the film, Dunbar begins to understand the Lakota better and eventually goes to live with them, marrying a member of their tribe and taking on a Native American name: Dances with Wolves.
Giving a towering performance, Costner was nominated for an Academy Award for best actor for his part as "Dances with Wolves," but he would win bigger trophies at the ceremony. The film would ultimately take home seven Academy Awards, including best director and best picture (Oscars.org).
Lawrence 'Crash' Davis (Bill Durham)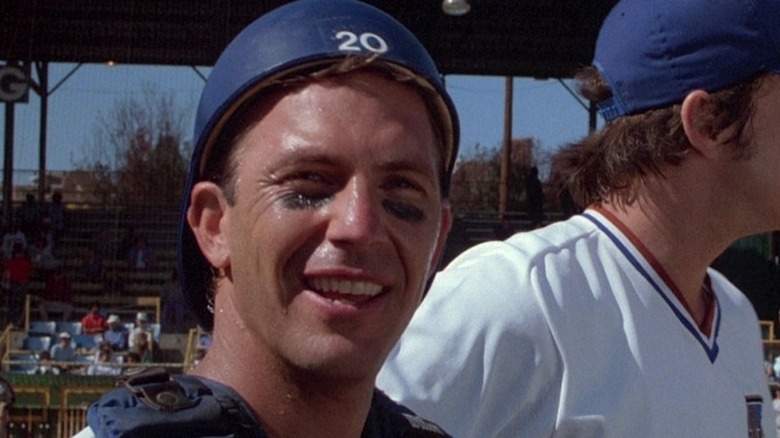 For a solid stretch of the '80s and '90s, it seemed like if Kevin Costner wasn't playing a cowboy in a Hollywood Western epic, he was probably starring in a sports movie. For example: 1988's "Bull Durham," a baseball movie featuring Costner as Lawrence "Crash" Davis, a career minor leaguer who's sent to the Durham Bulls — a lousy, unlikeable team with a legacy of losing — to help a new star pitcher nicknamed "Nuke" prepare for his inevitable jump to the major leagues. Susan Sarandon co-stars as the film's love interest, a minor league fangirl who starts out chasing the younger hotshot pitcher. But sparks fly when she meets Davis, who competes with Nuke for her affections.
"Bull Durham" was a smash hit with critics, with Roger Ebert awarding it three and a half stars and calling it "a treasure of a movie." While it was only a modest success at the box office (Box Office Mojo), it still lands on many "best of" lists and remains one of the highest-rated sports movies in cinema history according to Rotten Tomatoes. Costner's ascendant stardom is on full display in the film as he proves himself a capable leading man opposite screen icon Susan Sarandon, in what amounts to a preview of his legendary Hollywood career.
Ray Kinsella (Field of Dreams)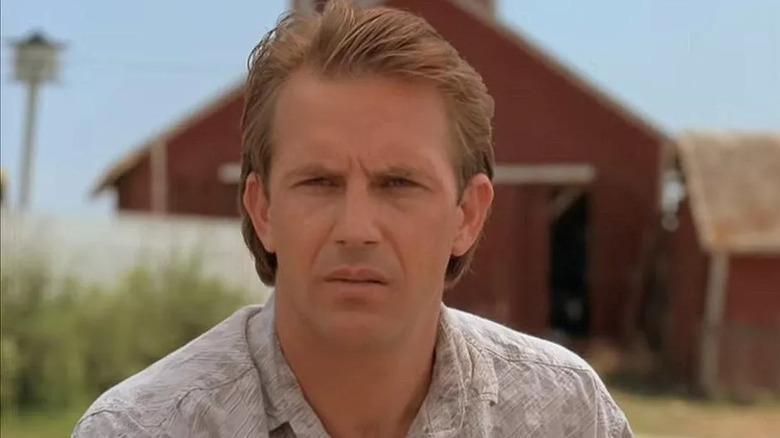 In perhaps what would become the actor's most iconic film and role, Kevin Costner played disillusioned Midwestern farmer Ray Kinsella in the baseball movie classic "Field of Dreams." In the film, the down-on-his-luck Kinsella is contemplating his poor relationship with his late father when he begins having visions of a phantom baseball park in his cornfield with a young baseball player eager to swing the bat, while a mysterious voice tells him to build a field there. With the help of a faithful stranger played by James Earl Jones, Kinsella follows through on blind faith and indeed builds a baseball diamond on his farm, where the ghosts of long-forgotten baseball players soon appear and begin playing Ray's favorite game. Through the resurrected heroes of days gone by, Ray befriends a former big leaguer named "Moonlight" Graham and eventually comes to terms with the father he never understood.
Nominated for three Academy Awards including best picture, "Field Of Dreams" proved so indelible and enduring that Major League Baseball even staged a "Field Of Dreams Game" between the New York Yankees and the Chicago White Sox in 2021, played in a specially constructed ballpark in an Iowa cornfield (MLB). Costner showed up for the event and participated in promotion, even introducing the players before the game by walking them through and out of the vast cornfield, just as he did in the film.
John Dutton (Yellowstone)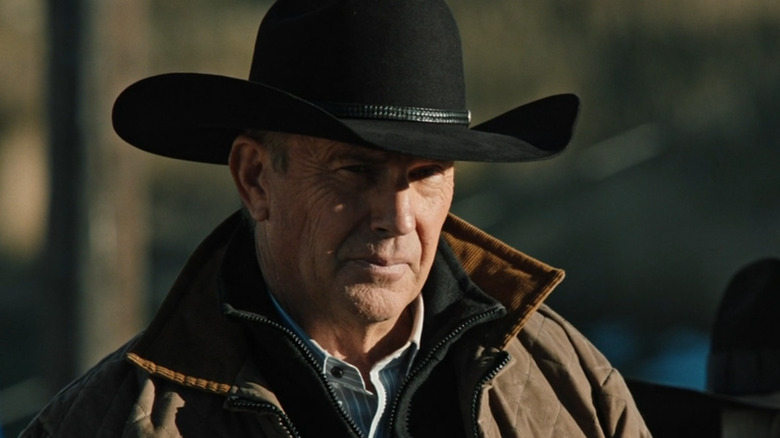 With a slew of Westerns under his belt, Costner donned a cowboy hat one more time in his triumphant return to television when he began starring in the gritty neo-Western drama "Yellowstone" in 2018. After a lull that had seen a string of forgettable disappointments like "Criminal" and "McFarland, USA," this project brought a late career resurgence and bring him back into the spotlight as the star of a hit new series. In "Yellowstone," Costner plays John Dutton, the owner of the Yellowstone-Dutton ranch who is beset on all sides by enemies trying to take it from him. A cast of lesser-known names round out the impeccable ensemble, with John's loyal family helping him fight to keep their ancestral legacy. 
It's a powerful political drama that's both stunningly shot and incredibly acted, while Costner's star power and gravitas brought immediate respect and legitimacy to the Western series when it debuted. Full of rich, complex characters — none more so than family patriarch John — "Yellowstone" has already proven to be one of the most-watched, if not best, dramas of the new decade and has made its mark as a highlight of Costner's prolific Hollywood resume (Variety).
Elliot Ness (The Untouchables)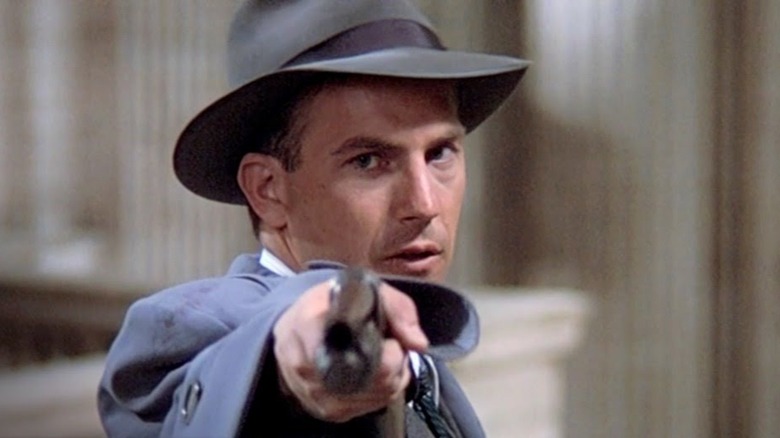 Costner broke through to big-screen leading man status with a starring role in Brian De Palma's noir crime drama "The Untouchables," a big-screen adaptation of the book of the same name. Adapted from the '50s TV series starring Robert Stack, for which Stack won his only Emmy (Television Academy), the movie tells the thrilling true story of famed Prohibition agent Elliot Ness and his group of "Untouchables" — a collection of crime fighters assembled to take down criminal kingpin Al Capone. Costner starred as Ness, while screen legend Robert De Niro played Capone and Hollywood heavyweight Sean Connery was cast as veteran officer Jim Malone, whose weariness with corruption on the force leads him to offer his assistance to Ness when he recognizes him as an honest cop.
Warmly received by critics upon its release, it wasn't long before "The Untouchables" became a bona fide Hollywood classic for Costner, in no small part due to his performance as the underestimated Ness. Ultimately, it proved to be a career-altering film for the actor, helping make him a big screen star.