Robin Williams
Mrs. Doubtfire star Lisa Jakub recalls Robin Williams' heartwarming gesture on movie set
Mrs. Doubtfire star Lisa Jakub is forever grateful for the late Robin Williams' kind nature on the set of their 1993 film.
Jakub recalled how Williams stepped in to assist when her school threatened to kick her out during filming.
"One day on set, I was very upset, because I had received this letter from my high school saying that it was too difficult for them to work long-distance with me and that I just shouldn't come back to high school," Jakub told Yahoo Entertainment on May 29.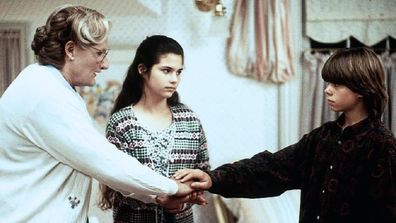 "And I was really upset about that, and Robin, just being perceptive and kindhearted, reached out and was like, 'Hey, what's going on?'" she said. "I told him what happened, and he wrote a letter to my school asking them to please reconsider. Would they work with me in trying to balance my education and my career? And he didn't think that that was fair."
Williams' letter to her school was well received, and they went on to frame it. However, it wasn't enough to get them to reconsider her enrolment.
"But what I love about that story and what I love about Robin, it's just the fact that he would do that for someone, that he would go out of his way, that he would take the time to realse that this would be important," Jakub said.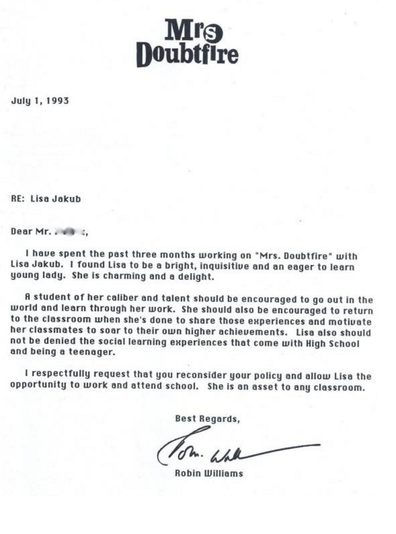 "And even if it didn't work, somebody needed to stand up, and he did that for me. I don't know if he ever knew how massive that was and how much I felt like he was in my corner. And how much that really shifted things for me and made me think about, "What is the impact I wanna make in the world?"'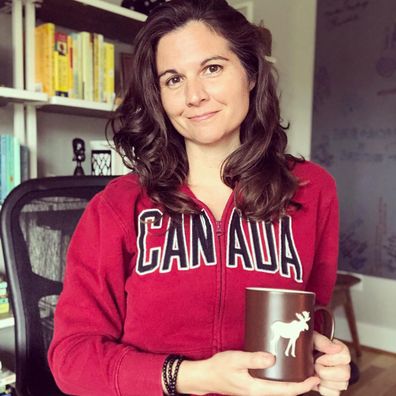 Jakub, now 42 years of age, decided to step away from acting. She was 14 years old when she was cast as Lydia Hillard in the iconic comedy and was dealing with some of her own mental health struggles.
"Robin was everything that you would hope he would be, and he was very open and honest with me about his issues with anxiety and depression," Jakub recalled. "I was able to share with him that anxiety was something that I struggled with, and he would talk to me about mental health issues in a way that 14-year-olds aren't usually used to adults being really open about those sorts of personal experiences with them."